In this episode of TLV, I talk to Bruce Stern of Stark and Stark Attorneys at Law. We discuss his efforts on getting Megan's Law through the legislature, his work and education on traumatic brain injuries, obtaining economic recovery for clients, and the importance of doing work outside of your office.
Bruce H. Stern is an expert Civil Trial Attorney as certified by the Supreme Court of New Jersey. He is also a member of the firm's Accident & Personal Injury practice.
Mr. Stern specializes his practice in representing the victims of traumatic brain and spinal cord injuries and wrongful death. In July 2004, Bruce began publishing the Traumatic Brain Injury Law Blog as a way to share his knowledge as a brain injury lawyer. Additionally, he is the author of numerous articles and a frequent lecturer on the subject of traumatic brain injury litigation, evidence and trial techniques. He also co-authored a book entitled "Litigating Brain Injuries" published by Thomson Reuters and a chapter entitled "Brain Injuries" which is included in AAJ's Litigation Tort Case Series, published by AAJ Press.
Bruce served as the President of the American Association for Justice (AAJ) from 2019-2020. He has been a member of the AAJ since 1982.
He is a member of the AAJ Executive Committee and the National Board of Governors. He is a past chair of the Traumatic Brain Injury Litigation Group and a past chair of AAJ's Motor Vehicle Collision, Highway and Premises Section. Bruce is a past president of the New Jersey Association for Justice (formerly ATLA-NJ) and recipient of its highest award, the Gold Medal for Distinguished Service.
Additionally, Bruce handles construction incidents and has obtained an Occupational Safety and Health Administration (OSHA) certificate through a 30-hour outreach training program for the construction industry.
Bruce is certified as a Certified Civil Trial Attorney by both the New Jersey Supreme Court and the National Board of Trial Advocacy. He is also a fellow of the International Academy of Trial Lawyers and has been selected a fellow in the International Society of Barristers. Both organizations are highly selective and have rigorous standards for membership.
Bruce H. Stern
Shareholder
Stark & Stark Attorneys at Law
609-895-7285
bstern@stark-stark.com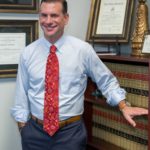 Jason D. Lazarus is the managing partner and founder of the Special Needs Law Firm; a Florida law firm that provides legal services related to public benefit preservation, liens and Medicare Secondary Payer compliance. He is also the founder and Chief Executive Officer of Synergy Settlement Services, which offers healthcare lien resolution, Medicare secondary payer compliance services, public benefit preservation and complex settlement consulting.