In this episode of TLV, I chat with Daniel Kramer of Kramer Trial Lawyers about how he pays it forward with organizations like LATLC, how he has learned more in 2020 than in law school, getting out of your comfort zone, and his concern pertaining to the rise of non-attorney owned law firms.
Daniel Kramer is a trial lawyer who specializes in representing families and individuals involved in catastrophic personal injury and wrongful death matters, as well as employment discrimination and retaliation lawsuits. Daniel has obtained numerous jury verdicts as lead counsel, all victories on behalf of his clients. Multiple verdicts have been featured in both The Daily Journal, Verdict Search, The Huffington Post, and Fox 11 News. Five verdicts were ranked as the top 50 verdicts in the state of California for 2016, 2017, 2018, and 2019 by TopVerdict.com. Early in his career, Daniel tried one of the first cases in Los Angeles County history to embrace a controversial new law regarding the recoverability of health insurance payments in personal injury actions. In his first year with the firm, Daniel obtained a $3 million settlement on behalf of the family of a WWII veteran who was tragically killed when a truck owned by a large grocery store chain ran a red light and crushed their husband and father to death. In 2015, Daniel obtained a $1,237,500 settlement on the eve of trial on behalf of CalTrans worker who was severely injured in a freeway collision. In 2016, Daniel obtained a $1,420,000 settlement just before trial against a shopping center for failing to protect its customers when a vehicle jumped a curb severely injuring a mother and her two daughters. Also in 2016, Daniel obtained a $1,000,000 policy limits settlement on behalf of a family who lost their 87-year-old father and grandfather who fell down a poorly lit stairwell. In late 2016, Daniel obtained a $2,160,000 jury verdict against the City of Los Angeles in a slip and fall case. That verdict was selected as one of California's Top 100 verdicts in 2016. In 2017, he obtained a $1,830,000 wrongful termination verdict and judgement on behalf of a minimum wage worker who was terminated because of his disability, where the jury awarded punitive damages. In 2018, Daniel received a $2,847,500 verdict against two large construction companies after his client fell in an open trench resulting in 3 broken ribs and permanent nerve damage. Last year, Daniel obtained an $850,000 verdict in a very difficult slip and fall trial where the client suffered a fractured knee cap.
In 2015, Daniel graduated from the renowned Gerry Spence Trial Lawyers College; that same year he graduated from CAALA's Plaintiff Trial Academy.  In 2016, he graduated from the Trojan Horse Method.
From 2013-2020, Daniel has been consistently honored as a "Top Attorney" in personal injury and employment law by Pasadena Magazine, which reached out to thousands of lawyers from all over the Los Angeles and Pasadena vote for the "most esteemed and highly regarded attorneys" in their chosen fields. Dan was distinguished for his "exceptional service" in his specialties.
From 2018-2020 he has been selected as a Super Lawyers "Rising Star" which recognizes no more than the top 2.5% of attorneys in each state.
In 2017 and 2018 he was a finalist for CAALA's prestigious "Rising Star" award, given to the top plaintiff attorney in Los Angeles under the age of 40.
From 2012-2017 he was an adjunct professor at Southwestern Law School where he taught Law Firm and Civil Litigation practice at the Graduate Legal Academic Program.
Before founding KTL, Daniel was the founding partner of Kramer Holcomb Sheik LLP.
Daniel co-founded the Beverly Hills Bar Association's Personal Injury Section which he currently chairs and in 2016 he was recently elected as the youngest member of the Southwestern Law School Board of Directors.
Daniel currently serves as President-Elect of the Los Angeles Trial Lawyers' Charities where he will serve as president in 2021.
In 2017, Daniel was elected as one of the youngest members to the American Board of Trial Advocates (ABOTA) and in 2019 he was elected by the entire membership to the LA-ABOTA Executive Committee.
He currently serves on the Board of Governors of the Consumer Attorneys of California (CAOC).
When not in the courtroom Daniel is a die-hard Colorado Buffaloes, Atlanta Braves and Falcons fan, while permanently trying to convince his wife and baby son that they need to jump on the bandwagon because they'll all be winning championships in no time.
Daniel Kramer
Trial Lawyer
Kramer Trial Lawyers
310-551-0600
dkramer@kramerlaw.com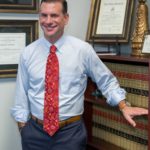 Jason D. Lazarus is the managing partner and founder of the Special Needs Law Firm; a Florida law firm that provides legal services related to public benefit preservation, liens and Medicare Secondary Payer compliance. He is also the founder and Chief Executive Officer of Synergy Settlement Services, which offers healthcare lien resolution, Medicare secondary payer compliance services, public benefit preservation and complex settlement consulting.