In this episode of TLV, I speak with Elise Sanguinetti of Arias Sanguinetti Wang & Torrijos LLP.  We discuss the challenges she has faced as a female trial lawyer, the importance of trial lawyer associations, access to the civil justice system, and the significance of empathy.
Elise Sanguinetti is a founding partner of Arias Sanguinetti Wang & Torrijos with offices in the San Francisco Bay Area, Los Angeles, Las Vegas and Montreal. Her main focus of expertise is serious injury, wrongful death cases, civil appeals and legal malpractice. She exclusively represents plaintiffs in civil litigation, and holds an AV rating with Martindale-Hubbell and has been named a California Super Lawyer every year since becoming eligible. Elise has been recognized as one of the top plaintiff's lawyers in California and for the past eight years she was named one of the Top 50 Women Lawyers in the Bay Area.
Elise graduated from the University of San Francisco School of Law where she earned her Juris Doctor (J.D.). She was admitted into the California state bar in 1997. When not in the courtroom, she is a frequent speaker at nationwide seminars and writes articles that are featured in various legal publications. Her copious amount of work has been recognized with numerous awards from various organizations.
Elise is a past-president of the American Association for Justice (AAJ), a past-president of the Consumer Attorneys of California (CAOC), and a past-president of the Alameda Contra Costa Trial Lawyers Association.
Elise R. Sanguinetti
Partner
Arias Sanguinetti Wang & Torrijos
510-629-4877
elise@aswtlawyers.com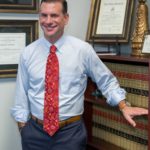 Jason D. Lazarus is the managing partner and founder of the Special Needs Law Firm; a Florida law firm that provides legal services related to public benefit preservation, liens and Medicare Secondary Payer compliance. He is also the founder and Chief Executive Officer of Synergy Settlement Services, which offers healthcare lien resolution, Medicare secondary payer compliance services, public benefit preservation and complex settlement consulting.