In this episode of Trial Lawyer View, host, Jason D. Lazarus, J.D., LL.M., MSCC, CSSC sits down with Rich Newsome, of Newsome Melton, P.A. They discuss his involvement in high-stakes product liability litigation, creating Trial School, and what he sees as the biggest market disruption coming in personal injury law practice.
Rich Newsome is the senior partner of the Newsome Melton law firm and represents people and families in complex civil litigation.
After graduating from the University of Florida College of Law in 1989, Rich worked as a federal prosecutor for the U.S. Attorney's Office in the Northern and Middle Districts of Florida. Rich left the U.S. Attorney's Office in 1993 and went to work for a large product liability defense firm in Orlando, Florida where he represented manufacturers. After defending a manufacturer in a case brought by a family who lost a child, Rich felt compelled to leave the defense practice and began representing only families and individuals. Since then, for more than 25 years, Rich's practice has focused on representing people who have suffered catastrophic or fatal injuries.
Rich is a graduate of the Gerry Spence Trial Lawyer's College and was invited to serve as a member of the College Faculty. Rich is a member of the Florida, Texas, New Mexico, and Oregon Bar Associations.
In 2016, Rich was selected as the "Orlando Personal Injury Lawyer of the Year" by Best Lawyers, a peer review publication. In 2015, Rich received the Steven C. Sharpe Public Service Award from the American Association for Justice, in recognition of his representation of Corey Burdick who was severely injured by a defective Takata airbag. The Steven C. Sharpe Award is awarded annually to one attorney and their client.
In 2017, Rich was appointed to the Constitution Revision Commission by Richard Corcoran, the Speaker of Florida's House of Representatives. The 37 member Commission drafted and submitted 32 amendments to the Florida Constitution which were placed on the ballot and approved by Florida voters to be part of the Florida Constitution in November 2018.
In 2019, Rich was recognized by the National Law Journal as having won two of the Nation's 100 largest verdicts in 2018.
Rich is a member of the Summit Council, a national group of America's best plaintiff trial lawyers. Membership is limited to less than thirty trial lawyers from across the country, is by invitation only, and is extended to lawyers who have a proven record of large jury verdicts and are recognized as leaders of the national plaintiffs bar.
Rich is a founding faculty member of Trial School, Inc., a not-for-profit organization which seeks to foster collaboration between lawyers on today's best trial advocacy methods and to provide free education and practice for trial lawyers who exclusively represent people and families.
Watch the episode by clicking HERE
Rich Newsome
Senior Partner
Newsome Melton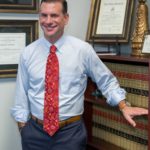 Jason D. Lazarus is the managing partner and founder of the Special Needs Law Firm; a Florida law firm that provides legal services related to public benefit preservation, liens and Medicare Secondary Payer compliance. He is also the founder and Chief Executive Officer of Synergy Settlement Services, which offers healthcare lien resolution, Medicare secondary payer compliance services, public benefit preservation and complex settlement consulting.